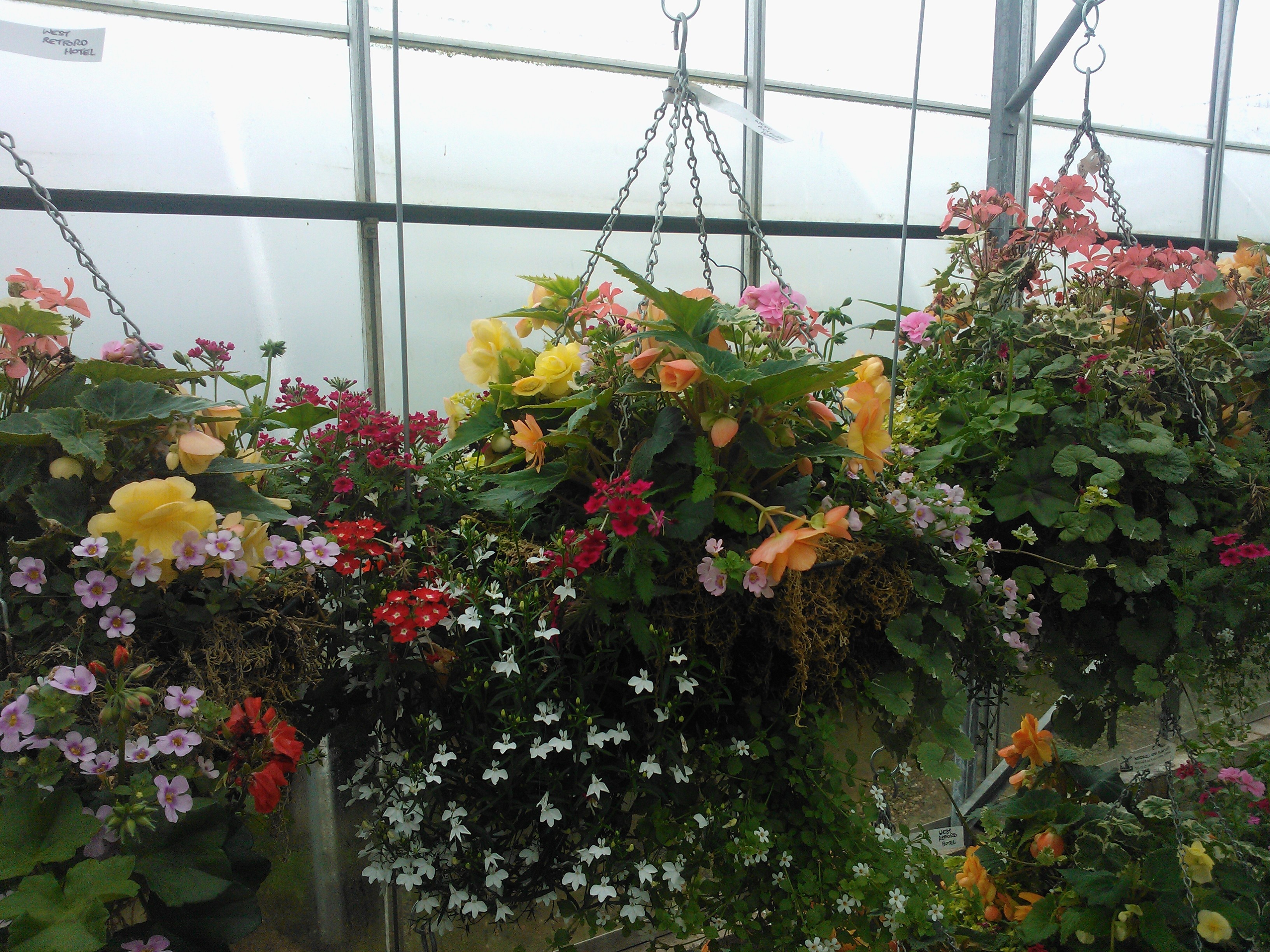 ** New Hanging Baskets & Tubs for summer

** Refilled Hanging Baskets & Tubs for summer

** New & refilled Baskets & Tubs for winter

** Help & advice where required

** National Garden Gift vouchers & HTA Gift Cards
** Our own Gift Vouchers

New Hanging Baskets and Tubs for Summer or Winter

We start filling summer hanging baskets from mid April and they are ready to be bought 'off the peg' from May onwards. We use fresh moss in our wire baskets, which range from 12" up to 18" diameter, and we also fill a large selection of wicker cones and round baskets in sizes ranging from 12" to 16". Alternatively you can order a basket of your choice to the colour you require. Winter baskets are available from mid September, filled with a colourful mixture of pansies, heathers, ivy and small shrubs.

Refilled Hanging Baskets and Tubs for Summer or Winter


We start refilling from mid April onwards, simply bring in your basket(s) and we will measure them and give you a quotation. Our price is for plants, compost, liner, filling the basket and hanging it in our greenhouses for anything up to six weeks depending on how early you bring the baskets in. We can do colour themes, or mixed colours, and we can do matching baskets or all different, whatever you fancy! Simply tell us and we will do the rest. Winter refills don't need the same growing time so can be brought in one day and collected a couple of days later.
Hanging Baskets for Businesses

We were delighted to once again refill the hanging baskets for the Best Western West Retford Hotel during 2019, as well as refilling all the hanging baskets for the Retford in Bloom and Harworth in Bloom schemes. They were displayed all summer above shops and businesses in the town centre, and maintained by Acer Landscapes Design and Construction Ltd.

Help and advice
We are completely 'customer orientated' and will always greet our visitors with a cheery 'good morning' or 'hello'. We love to make sure our plants go to the right home, and will happily advise customers about planting combinations, or where best to site a specifi variety. Please ask for advice and we will be delighted to walk around the plant centre with you, but we will also leave you to browse if you'd prefer that. We don't like to appear 'pushy' but we do like to be friendly!

Please note we are unable to make visits to customers to advise nor do we draw up designs or plant gardens.

Gift Vouchers

We are members of the Horticultural Trades Association and can sell and accept the National Garden Gift Vouchers. Windmill View also has its own range of gift vouchers to be redeemed here.